Happy March Everybody! I am hoping the decent weather they are predicting for next week means the end of deep winter in Edmonton. My favorite day every year is the day the River Valley has new leaves on the trees. Let's all look forward to that!
Some good news – Bruce S., who has been working with both Math and Literacy the last few years has been accepted for the summer semester at Olds College!!
We have two new tutors in Literacy. Please welcome Yvette and Mary!  And Vijay is back after a 3-year absence! Welcome back!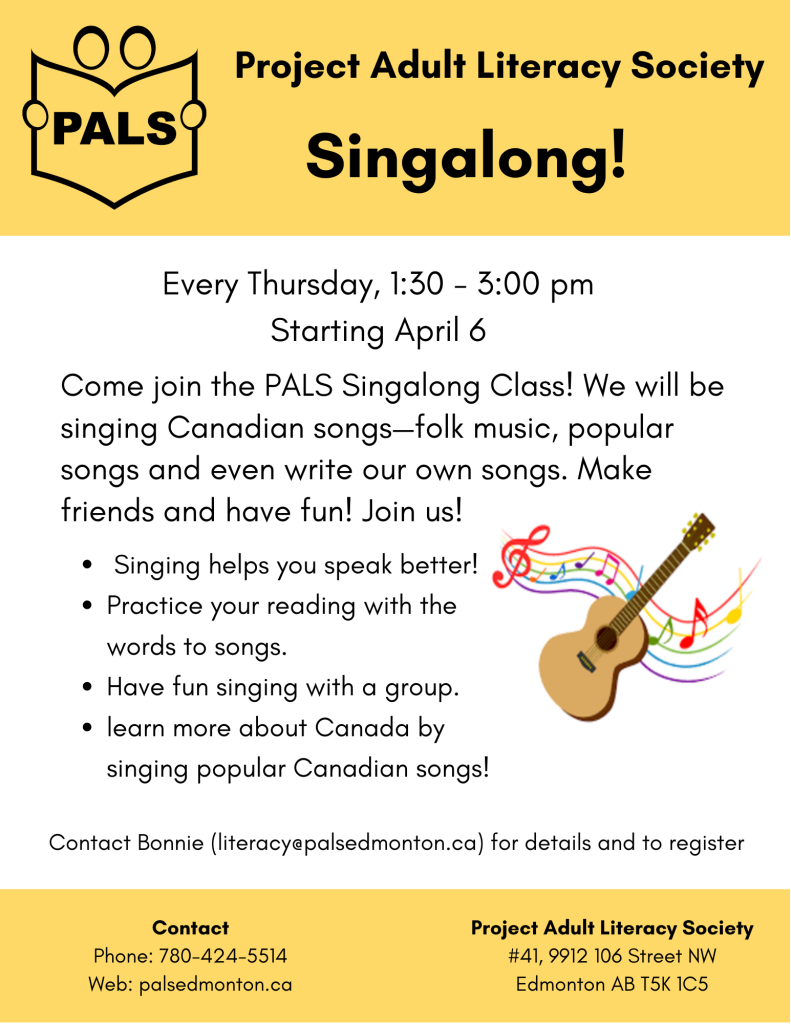 We are looking for learners who would like to join our Singalong. I have 4 loyal singers to start out with but would love to have 10 to 12 people. If you are an LELL learner, Singalong is very good for you! Lots of music and words to read, learning how to say the words the right way in a fun way, and learning more about Canada with Canadian songs.
We will be starting at beginning of April. Contact Bonnie to register.
Poetry and Writing Prompts
Writing prompts can get you thinking creatively and challenge you to write differently and try something new.  Below you will find some writing prompts we have created. Type writing prompts-subject on you search engine on your computer or phone and you can discover many more writing prompts. Thanks to the Internet you will never be lacking for inspiration.
List of Prompts
A new spring. A new you.
Write a story set in a dog park on a spring day.
Wait, you think to yourself. Something's wrong. It's April, and the leaves haven't grown back on the trees yet.
This year's spring showers are as frequent as ever, except for one big difference — the sky is showering money.
Your crush at work has developed a habit of setting a fresh bouquet of flowers on their desk once spring started… and you have allergies.
Write about a character sowing seeds for the future (literally or figuratively).
Set your story in a tea house.
Write a story about a late bloomer.
The first rain of the season arrives. Write a story that begins immediately afterward.
Start your story with someone sitting on a crowded train and end it with them looking out over beautiful natural scenery.
Write a story that weaves together multiple lives through their connection to a particular tree.
Write a story where flowers play a central role.
Start your story with one character pointing out the first sign of spring to another.
Write about a character coming out of a long hibernation (either literal or metaphorical).
Set your story at a park during a spring festival.
You made a promise to yourself you'd finally do it on the first day of spring. Today was the day.
Write a story that takes place at a spring dance.
Remember to use these and send in your own or your learners to your coordinator so we can publish them in next month's newsletter for PALS!
Bonnie Caron
Call: 780-424-5514, press 1